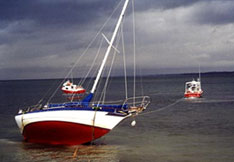 Salvage, historically and legally, is any voluntary and successful rescue of a boat, its cargo and/or it's passengers from peril at sea. TowBoatUS, On-The-Water Towing plans do not cover the member for salvage or pollution clean up costs. Many boat insurance policies do, however, cover these costs.
Check with your insurance agent to determine if these costs are covered by your policy. If your boat insurance policy is underwritten by BoatUS and you need salvage services, TowBoatUS Cape Coral will work directly with BoatUS Marine Insurance underwriters and send all invoices related to the salvage of your boat directly to them for payment. If, however, you are insured by another insurance underwriter, you may have to pay for the salvage costs upfront and seek reimbursement from your boat insurance company.
Salvage operations are billed on the basis of the length of the boat to be salvaged, the complexity of the salvage operation, the kinds of equipment needed and the number of personnel involved. Salvage fees range from a simple price per foot multiplied by the length of the vessel being salvaged to a percentage of the full insured value of the vessel. Pollution clean up is billed on the basis of the time, materials, and personnel required.
The accompanying box below illustrates the range of possible charges.